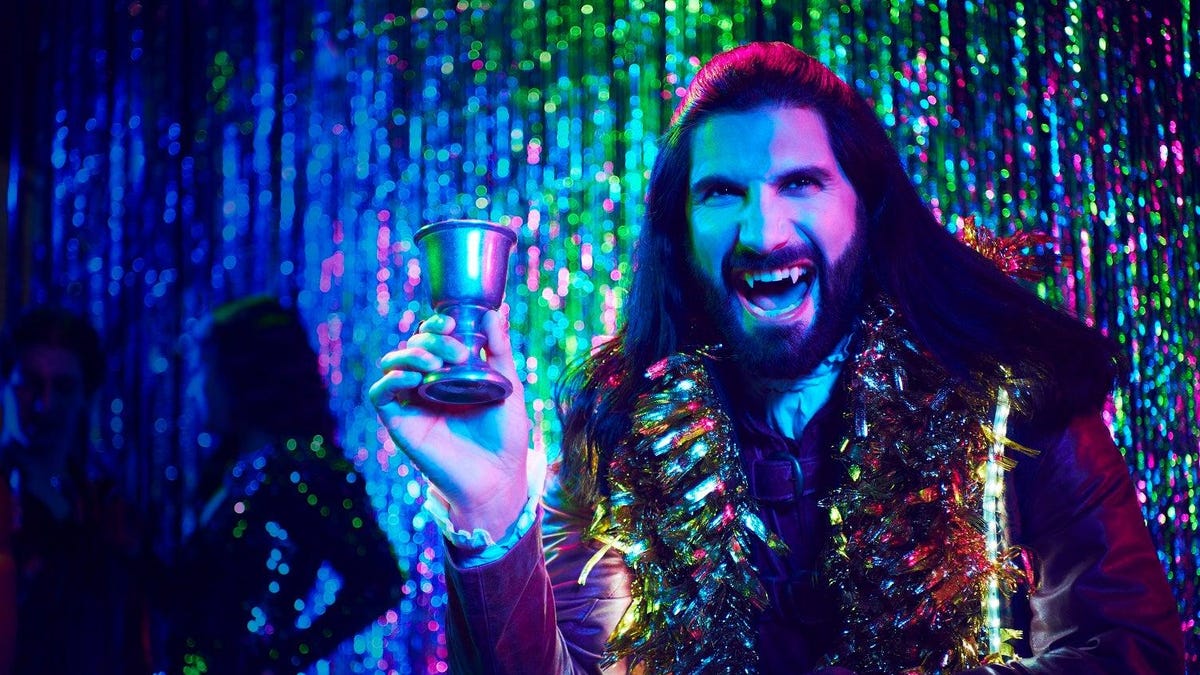 Season 4, Episode 6, "The Wedding"
The good thing (or sociopath, whatever) about being a vampire is that there are very few problems that don't go away on their own. ultimately. For mere mortals, the idea of ​​marrying someone we don't really love just because we want to throw a big party where we can wear a extremely a fancy hat would be a life-defining choice, but for Nandor, calling off his wedding to his "beloved" Marwa seems like a matter of, well… running out of time.
These nuptials are, of course, the subject of "The Wedding," tonight's episode of What we do in the shadows, which is paradoxically both very focused – there's barely a B-plot here, when Nadja and the Guide break off to recruit the Baron to overcome body shaming to come and officiate the ceremony – and a very cowardly. Despite Nandor's repeated claims that a conspiracy is afoot to derail his marriage, it turns out there's hardly any conspiracy involved here.
Which isn't exactly a criticism, since "The Wedding" is mostly an excuse to What we do in the shadows to assemble a large swath of its large roster of recurring characters and shove them all into a room together. We have the Baron (now restored to his former fuckability by one of Djinn of Nandor's last wishes), the Sire (now speaking English, thanks to some handy flashcards), Guillermo's old vampire hunter-turned-vampire buddy Derek , plus last minute additions Sean and Charmaine. It's great to see them all here, especially the last two, who have been hypnotized into blithely accepting the existence of the undead for granted in a way that leaves Anthony Atamaniuk (killing him for two episodes in a row ) and Marissa Jaret Winokur having a lot of fun.
However, "The Wedding" focuses on Guillermo and Nandor, who have fallen back into a familiar dynamic as the growing stress of Nandor's "Bridezilla" descends to his familiar/bodyguard/best man. As usual, it's a recipe for both comedy and a bit of sweetness, especially after Nandor brainwashed Marwa into "liking whatever he wants", and she then begins to lavish affection on Guillermo, speaking out whatever Nandor can't bring himself to say. at his best… man.
G/O Media may receive a commission
Meanwhile, we get little sketches of love and loneliness in the immortal world, most notably with Derek (Chris Sandiford), who has a miserable unlife: alone, unhappy, and working in a convenience store because he refuses to rob the people he ate, he is the picture of unkillable despair. On the other hand, there are Nadja and Laszlo, always the perfect couple, who encourage each other by individually slipping into the locker room to fuck a freshly invigorated baron and later fall out with the alliance. It's an easy message to read: living forever doesn't mean much if you don't share it with someone who understands you. Hence all of Nandor's wedding quest this season –and his quiet ambivalence about turning Marwa into a vampire and making her his bride forever.
Turns out there's a plot of people who oppose this particular union, in fact. In the less successful of the episode's two major montage sequences, we see just about everyone at Nandor and Marwa's wedding stand up and explain why they're a terrible match. Most of these motives are typically selfish vampiric – the Guide, for example, fell madly, passionately in love with Nandor and Marwa, and therefore cannot give her his blessing – but Nandor himself clearly has his doubts too, seeming to realize that he has created, through all his jinn tampering, an "ideal wife" who only loves her. 'barely, and that he doesn't like. 't really care at all.
Which is grim for an episode that also has a classic fashion montage with a gargoyle and half of a charred but lovely corpse's torso. (That one works, by the way, even though it's undeniably stupid shit; I'm a sucker for the high energy applied to classics.) Presumably, though, all of those feelings are just work basic: What we do in the shadows landed four track seasons on Guillermo and Nandor becoming…Something…at this point, and, with all this talk of love in the air, it looks like this train might finally pull into the station – or crash into it disastrously at high speed, more likely than 'unlikely.
Spurious observations
Almost no Colin Robinson baby tonight, other than serving as a ring bearer and teaming up with Doll Nadja to draw a dick on an exhausted Guillermo's forehead.
Nandor's wedding idea: "Six black stallions pulling a wedding cake."
Harvey Guillen is awesome in this episode; Guillermo is still at his best when the patient smile begins to crack and break.
Nandor, making a very reasonable request to have a dodo to feed the wraiths working on the wedding: "What's the problem here?" They are very slow birds, very easy to catch, they are everywhere!
"Not anymore!"
"Since when?"
"1681! »
We don't have a ton of Nadja tonight, but what there is is gold: "Rich humans are like veal: Conceptually repugnant, but then butter on my tongue.
And then, "Guillermo, did you punch five holes in the wall and then fuck a chicken?"
Doug Jones can also really have fun as a baron, before and after he regains his health. "Once they dined at the sumptuous feast that was my face. But now I only serve them a charred and flaking peasant crust.
"Do you think what I think?"
"That he's still fuckable even though he looks like a burnt log?" This season has called on the double act Natasia Demetriou and Kristen Schaal several times, and it's only getting better.
All the looks from the fashion montage noted by Hall & Oates: classic Dracula, classic

Vincent Adulteman

sailor suit (with lollipop), Scarlett O'Hara dress, old-fashioned bike duo, Nadja/Guide prom photo, Nadja/Guide cowboys and, of course, Nadja/Guide in 80s Cyndi Lauper fashion. Very funny!
How do you check if a chocolate fountain also works with blood?
"Happy now?"
"I just got everything I wanted, so…yeah!" Big smile."
This may be the last time we see Anoop Desai as a djinn (although Nandor does get three bonus wishes from him as a wedding present). He's been a low-key, delightful addition to so many scenes this season.
There must be an episode where Laszlo gets the Go turn around brothers to come and fix the house, right?
Speech by the Sire: "Time devours everything. And love crumbles to dust. Ruin is inevitable. And everything else is just a prelude.
Sean, calmly: "He scores a point."
It's a very light Laszlo episode, but we're burning it up with Nadja with a rendition of "Who'll Come First On The Wedding Night?" Example lyrics: "If his dick feels good and his pussy feels tight!"
I could have used another five minutes of Nandor's dumbest wishes.