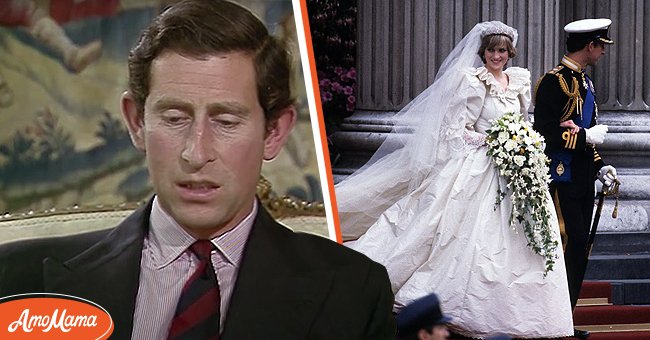 Prince Charles should have been "flipped over at the altar" on the day of his marriage to Lady Diana
Prince Charles was said to have been so afraid of marrying Diana, Princess of Wales, that he had to be cuddled to the altar. He wasn't the only one with doubts, however.
It has been more than two decades since Prince Charles and Diana, Princess of Wales, officially divorced, but their unhealthy relationship continues to make headlines.
In the unauthorized biography "Charles: Heart of a King", author Catherine Mayer revealed some details hidden from the days leading up to Diana and Charles' wedding on July 29, 1981, including why they hardly reached the altar.
The day before the ceremony, which was held at St Paul's Cathedral in London, Charles reportedly told an aide he couldn't go until the end. Like Diana, he knew their relationship was flawed and doomed.
Other than that, the Prince of Wales feared he was rushing to marry a woman he barely knew. It is important to point out that they were only engaged for five months and had a brief courtship.
During these months, Charles realized that Diana was not the "pretty country girl" he thought she was, but a vulnerable and complex woman struggling with an eating disorder.
One of Charles' friends added that he was not really committed to the relationship, and if they had a Catholic marriage, it could have been declared a void.
The Prince of Wales was said to be "desperate" and astrologer Penny Thornton, whom Diana consulted frequently, once confirmed this statement. She revealed that Charles had told Diana he didn't like her the day before the wedding.
Thornton believed Charles didn't want to walk down the aisle "on a false premise," so he tried to clear things up with her. However, it was a devastating blow for Diana.
[Diana] told her sisters that she couldn't marry him because it was "absolutely amazing".
Finding out that the person you're supposed to spend the rest of your life with doesn't love you one day before you say "yes" must be heartbreaking. Diana knew this firsthand, so she considered not attending the wedding.
That wasn't the only reason she had doubts, however. Diana was also aware of the romance of Charles and Camilla Parker-Bowles. Among a pile of gifts and wedding cards, Diana found a bracelet intended for Camilla with the letters "G" and "F" engraved.
Although the meaning of these letters was unclear, she believed they meant "Gladys" and "Fred", Camilla and Charles' animal names based on the characters from "The Good Show".
Diana knew her future husband and ex-girlfriend were using these nicknames to call each other after being picked up by some of his friends and a note he previously left.
Another possibility for the initials was that they represented "Girl Friday", also a nickname the Prince of Wales had for Camilla at the time, based on the movie "His Girl Friday".
What the letters represented was irrelevant beside the idea that Charles had planned to give Camilla – his ex-girlfriend – a bracelet just before marrying Diana.
The People's Princess told her sisters that she couldn't marry him because it was "absolutely amazing". However, they told him that it was impossible to back down because his face was already on the tea towels.
According to Mayer, whose biography has been called "controversial" for the way Charles was portrayed, Diana was unaware that her husband needed to be "cuddled at the altar."
DIANA'S WORST DAY: HER WEDDING
National Geographic documentary "Diana: In Her Own Words" highlighted her marriage to Charles, who the Princess of Wales described as the "worst day" of her life.
On their honeymoon, Diana confronted Charles after seeing the gift Camilla gave her: a pair of cufflinks with two intertwined C's. Diane Explain:
"I said, 'Camilla gave them to you, didn't she? He said, "Yeah, so what's wrong? It's a gift from a friend." And, boy, did we have an argument. Jealousy, total jealousy. "
Diana and Charles' 15-year marriage was doomed from the start, and during her 1995 interview with the BBC, Diana revealed Charles wasn't the only one involved in business during their marriage.
Initially, the Princess of Wales told reporter Martin Bashir her marriage was "a bit overcrowded" as there were three people, referring to Camilla.
Diana confronted Camilla telling her that she knew she was Charles' mistress.
She then confirmed that she had a romantic relationship with former Cavalry Officer James Hewitt. Their bond was so strong that Diana admitted that she was in love with him.
His interview with the BBC has been frowned upon for years, as Bashir allegedly forced Diana to speak out by forging bank statements to make her believe her closest confidants were spying on her for her enemies.
For years people have wondered why Charles didn't marry Camilla instead of Diana, as it would have avoided years of heartache and business on both sides. The main reason was that Camilla did not have an aristocratic line.
Other than that, she didn't seem "virginal" enough to become a royal bride. It is also essential to note that Camilla was married to Andrew Parker Bowles when Charles and Diana got married.
When Charles served in the Royal Navy in the early 1970s, she married Andrew and broke Charles' heart. They remained close friends and rekindled their romance in the late 1970s.
In the late 1980s, after Charles and Diana welcomed Princes William and Harry, she confronted Camilla telling her that she knew she was Charles' mistress. Camille responded:
"You have all the men in the world falling in love with you and you have two beautiful children. What else do you want ? " So [Diana] said, 'I want my husband.' "
Diana also told Camilla that she was sorry to be in their way as she knew it was probably "hell" for them, but she also asked Camilla not to treat her like "an idiot" .
The confrontation didn't do much as Charles and Diana separated in 1992 and officially divorced in 1996. In August 1997, the People's Princess and her boyfriend, Dodi Al-Fayed, died in a car accident. car.
In 2005, three decades after their relationship began, Charles and Camilla married in a groundbreaking ceremony, as a future king had never married a divorced woman before. Their love prevailed.