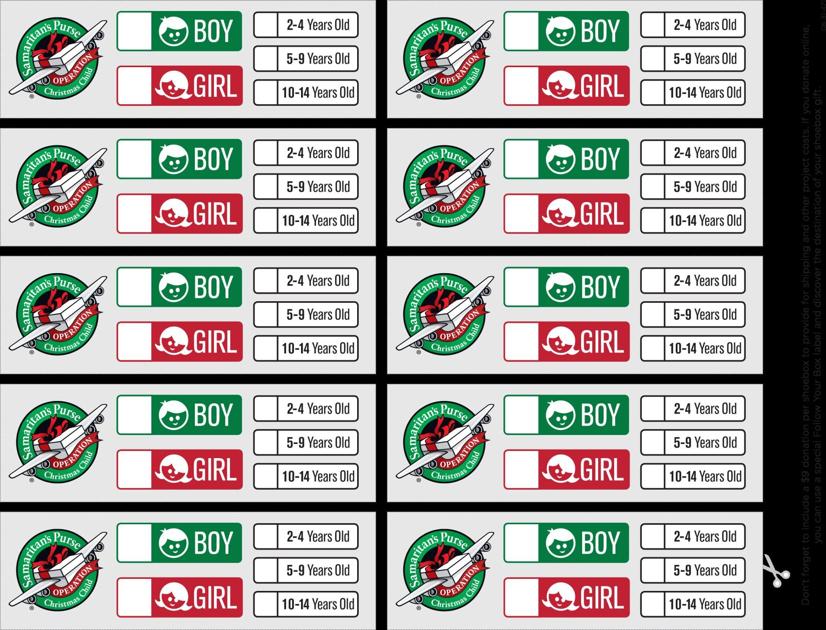 Pack a shoebox with gifts for Operation Christmas Child | Columns
I know it's only mid-October and it might be too early to think about Christmas, but if you're looking to reach out to a child in need this holiday season, there is an exciting project you can work on right now.
It's called Operation Christmas Child and is hosted by an organization called Samaritan's Purse. With Operation Christmas Child, you have the option to fill a shoebox with gifts and ship it overseas to a boy or girl in need. It will bring great joy to children who find themselves in desperate situations, while exposing them – perhaps for the first time – to the love of Jesus Christ.
"Each shoebox provides an opportunity to share the Good News of Jesus Christ with a wounded child," said Franklin Graham, president of Samaritan's Purse.
If you are interested in participating in this activity, here are some simple steps to follow:
1. Shoe box
Use an empty cardboard or plastic shoebox (medium size). If you want to pack it, cover the box and the lid separately.
2. Boy or girl
Decide if your gift will be for a boy or a girl, and the age category: 2-4, 5-9 or 10-14.
3. Include a "Wow" toy
Start with a medium to large object that will capture the child's attention as soon as they open the box. Ideas include a doll, a soccer ball with a pump, or a stuffed animal.
4. Fill with gifts
Add other fun toys that children will immediately adopt, non-liquid hygiene items, school supplies and other accessories.
5. Pray
Most importantly, pray for the child who will receive your gift.
6. Include a donation of $ 9 per box
Donate $ 9 for shipping costs. And if you want to add an extra $ 9, you can find out where your shoebox is going by donating to Follow Your Box online at www.samaritanspurse.org/operation-christmas-child/follow-your-box/
7. Deposit
Print the appropriate label that is included in this article. Mark the correct age category and affix the label to the top of your box. Place a rubber band around each closed shoebox and take it to your nearest drop-off point during National Collection Week, November 15-22. You can visit www.samaritanspurse.org/operation-christmas-child/drop-off-locations/ for all available drop-off points both locally and nationally.
Gift suggestions
Before you get busy stuffing treats in your shoebox, here are a few gift suggestions you should know first:
Toys: Include items that children will immediately embrace, such as dolls, toy cars, stuffed animals, kazoos, harmonicas, yo-yos, jump ropes, balls, toys that light up and make noise (with additional batteries), etc.
School supplies: Pens, pencils and sharpeners, pencils, markers, notebooks, paper, solar calculators, glue sticks (not include liquid glue), coloring and picture books, etc.
Non-liquid hygiene items: Toothbrushes, bar soap, combs, washcloths, etc.
Accessories: T-shirts, socks, hats, sunglasses, hair clips, jewelry, watches, flashlights (with extra batteries), etc.
A personal note: You can attach a note to the child and a photo of yourself or your family. If you provide your name and address, the child may be able to respond.
Do not include: Sweets; toothpaste; used or damaged items; war-related items such as toy guns, knives or military figures; chocolate or food; seeds; fruit buns or other fruit snacks; drink mixes (powder or liquid); liquids or lotions; drugs or vitamins; breakable items such as snow globes or glass containers; aerosol cans.
For more information
If you are interested, you can visit https://www.samaritanspurse.org/what-we-do/operation-christmas-child/ for all the additional information, resources and materials you need to get your box shipped to shoes.
This is a very exciting opportunity to give, and a great chance to show the love of God to a young child who needs it so much.
Brad Hall is the editor of the Times-Tribune. He can be contacted at bhall@thetimestribune.com.