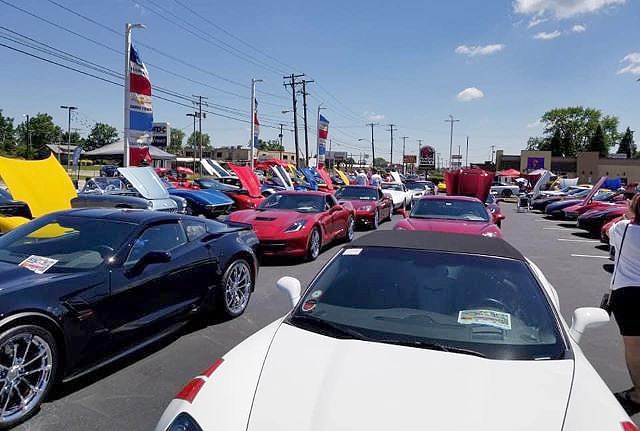 Here are some events happening in the Mahoning Valley
Looking for something to do this weekend? Check out these events.
Here are some of the events taking place in the Mahoning Valley this weekend. For more events, see our calendar of events.
AUSTINTOWN – The Mahoning Valley Corvette Club will have its 26th annual Corvette and Steel Car Show at Greenwood Chevrolet, 4695 Mahoning Ave., 9:30 a.m. to 3 p.m. Sunday.
Registration for cars will take place from 9:30 a.m. to 11:30 a.m. The rewards will be given from 2:30 p.m. The show, which benefits Disabled American Veterans, will take place rain or shine.
The Mahoning Valley Corvette Club is a member of the National Council of Corvette Clubs. For show attendees, non-NCCC admissions are $ 10 and NCCC admissions are $ 20. There is no charge for spectators.
"It's exciting to start hosting Corvette shows again," said Jim Conlin, director of new cars for Greenwood Chevrolet in Austintown, in a press release. "We can't wait to see Corvette and Steel Car owners come and show their vehicles. It is a great event for owners and enthusiasts.
In addition to the vehicles, there will be music from Big Rick DJ Services, food to buy, a gift basket and 50/50 raffles and more.
YWCA Women Artists Art Exhibition Opens Today
YOUNG TOWN – YWCA Mahoning Valley's Women artists: a celebration! The art exhibition will open at noon today with a virtual judging event on Zoom.
The online opening will feature a presentation by juror Gail Trunick who will also announce the awards. To register for the judging event, click here.
The in-person exhibit will be available at the YWCA's Youngstown location, 25 W. Rayen Ave., from noon to 4 p.m. Wednesday through Sunday. The show is closed on July 3, 4 and every Monday and Tuesday. The online portion of the show can be viewed here until July 23.
For more information, contact Michaela at [email protected] or 330-746-6361, ext. 109.
Event featuring a presentation and discussion on the Mahoning movement
YOUNGSTOWN – An event featuring the presentation and discussion of the Mahoning Movement Project is scheduled today from 6 p.m. to 10 p.m. on the second and third floors of the Knox Building, 110 W. Federal St.
the Mahoning movement documents the history of transportation along the Mahoning River and advocates for an interpreted active transportation trail to connect the Stavich Trail in Struthers to the Portage County Hiking and Biking Trail in Ravenna. These efforts are part of a Youngstown State University graduate project by Jacob Harver, who is a member of the Friends of the Mahoning River board and a member of the Friends of the Historic Center of Industry. and the work of Youngstown.
The program of the event:
6:00 p.m .: Meeting on the second floor.
7 p.m. to 8:30 p.m .: Project presentation featuring special guests including filmmaker and comedian Matt O'Nesti and new original pieces from Maple Turner featuring the Underground Railroad through the region, which could become of public art along the trail. Jessica Romeo, Community Health Educator for Mercy Health, and Zachary Felger, Co-Chair of the Friends of the Mahoning River Public Use and Recreation Committee, will speak.
8:30 p.m. to 10 p.m .: Meetings on the third floor. There will be a Youngstown Cinema and McKelvey Gallery loop of Mahoning Valley films, including "The Apprazer" by Chris Strollo and "Youngstown: Still Standing" by Johnny Chechitelli.
For tickets, click here.
River Rock to host Journey and Pretenders tribute bands on Saturday
WARREN – Journey tribute band E5C4PE will headline Saturday's show at River Rock to the Amp, 321 Mahoning Ave. NW. The group will perform at 8:30 p.m.
The show opens at 5:30 p.m. will be Talk of the Town, a tribute band to The Pretenders.
Tickets, which cost $ 10 (free for children 12 and under), can be purchased here and at the door.
The inaugural summer market will take place at Concept Studio
YOUNGSTOWN – The Steel Town Studios and Friends first summer market at Concept Studio will be held from noon to 5 p.m. Saturday and Sunday at Concept Studio, 217 W. Federal St.
Entrance to the summer market is free.
In addition to the refined graphic art of Bob Barko Jr., founder of Steel City Studios, the summer market will feature works by the following local artists:
Barko said the show will give audiences a chance to see the recently unveiled State Theater Block Project, located next to the Concept Studio, and will also feature local food vendors each day.
"I am so happy to team up with Concept Studio to host this event for my talented friends from the local art community," Barko said in a press release. "I hope this will be another great show in a beautiful venue in downtown Youngstown that will be a great way to kick off the summer of 2021 and bring happiness through our art to our guests as our shared world returns to a somewhat normal state. "
For more information, contact Barko at 330-881-5819 or [email protected]
The scrappers will face the Black Bears this weekend
NILES – The Mahoning Valley Scrapers will face the West Virginia black bears tonight, Saturday and Sunday at Eastwood Field, 111 Eastwood Mall Blvd.
Tonight's and Saturday's games will start at 7:05 pm There will be a fireworks display after the games.
Sunday's game is scheduled for 4:05 pm Bring non-perishable food for the Second Harvest Mahoning Valley Food Bank or a donation of new children's books and receive a free general admission ticket to the game. It's also Kids Run the Bases day. All children present can do the basics after the game.
For tickets, meet at the Chevy All Stars box office at Eastwood Field or at Scrappers' website, or call 330-505-0000. During this weekend's games, bring your child's newsletter to the Chevy All-Stars box office to receive a free General Admission ticket for each A.
JCC will host Dash & Splash 5K, karaoke night
YOUNGSTOWN – The Youngstown Jewish Community Center will host its third annual Dash & Splash 5K on Sunday.
The children's race is at 8:45 a.m. and the 5 km run at 9:00 a.m. Both races start at the main JCC campus, 505 Gypsy Lane, and end at the JCC Logan campus, 3245 Logan Way.
Participants will have access to the Logan campus after the Dash & Splash, including the outdoor pool. The outdoor facility also offers sand volleyball, tennis and basketball courts; a deck ; and a snack bar.
The cost of Dash & Splash is $ 10 per person and $ 15 per family. To register, click here.
The event is sponsored by the Thomases Family Endowment of the Youngstown Area Jewish Federation.
The JCC will also be hosting an '80s karaoke night at 7:15 p.m. tonight at its Logan campus.
Wine and cheese will be provided. The event is free for JCC members and $ 5 for non-members.