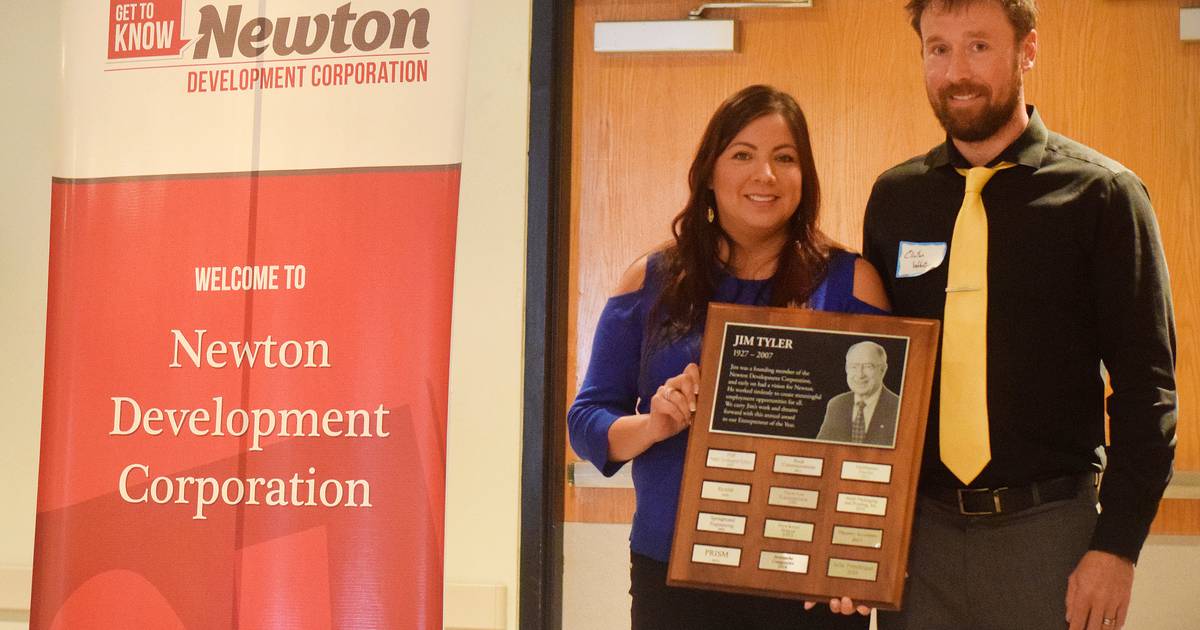 Clinton and Yvette Webster of The Thunderdome receive Jim Tyler Entrepreneurial Award – Newton Daily News
Clinton and Yvette Webster probably have the coolest name for a business in the town of Newton – The Thunderdome – but what's even more impressive is their dedication and willingness to try something new, something risky, something trending or something so out there even they doubt if the idea will stick.
That's what it takes to be a successful entrepreneur these days. Newton Development Corporation recognized the Websters' entrepreneurial spark at the annual Tribute to Business and Industry Luncheon on October 13 at DMACC Newton Campus, presenting the couple with the Jim Tyler Entrepreneurial Award.
The Websters got their first taste of entrepreneurship with their wedding venue in Runnells. Known as Baqara, the venue opened in 2015 and has since hosted over 300 weddings. The two eventually got their hands on Newton's old roller rink, renovating it into Baqara Coliseum and then The Thunderdome.
"We made about $300,000 on the original renovation to get a new furnace, new air conditioner, redo the floors, try to clean the ceiling as it was exposed to poor insulation, all new electrical, plumbing updated up to date, the whole bang," Clinton said. "Did the outdoor space with lots of sidewalk to do outdoor weddings."
At the NDC luncheon, Clinton said the initial wedding venue in Runnells had blossomed into several other ideas and projects. Some have worked. Some did not.
But the ones that didn't worked served as a learning experience for the Websters or served as the basis for an entirely new project. They didn't give up. When the Baqara Coliseum wedding venue didn't resume operations as it should, the Websters began to think outside the box.
They teamed up with Dave Makin, president and creative director of marketing company Nexus 6, to develop The Thunderdome. Clinton said the concept for the facility was to provide food, drink and entertainment. Within The Thunderdome business umbrella, there are other entities that provide these amenities.
Revel & Rind was introduced as an upscale cocktail bar that eventually started serving pizza and appetizers, which morphed into Bistro 55. Of course, that idea also evolved, as the Bistro 55 not only provides food for Revel & Rind customers but also offers off-premises catering.
"Between the catering and the food that we do in our establishment, we now do brunch buffets on Sunday mornings from 10 a.m. to 1 p.m., then in November we will start doing supper club on Tuesday evenings – a kind of supper top of the line. for that night," Clinton said.
With so much space at their disposal, the Websters have the luxury of venturing even further. The Thunderdome features the ValHalla Sports & Gaming Lounge, which is packed with ax throwing, ping pong tables, and cornhole boards. League tournaments are even organized in the establishment, attracting more people to town.
"I'm really starting to focus on the recreation area part," Clinton said, noting that he and Yvette also offered grilled snacks at the Toast Post and snow cones with Mr. Everest Shaved Ice at the Thunderdome. "…All of these things that we can try to give back to the community based on different demographics."
Contact Christopher Braunschweig at 641-792-3121 ext. 560 or [email protected]